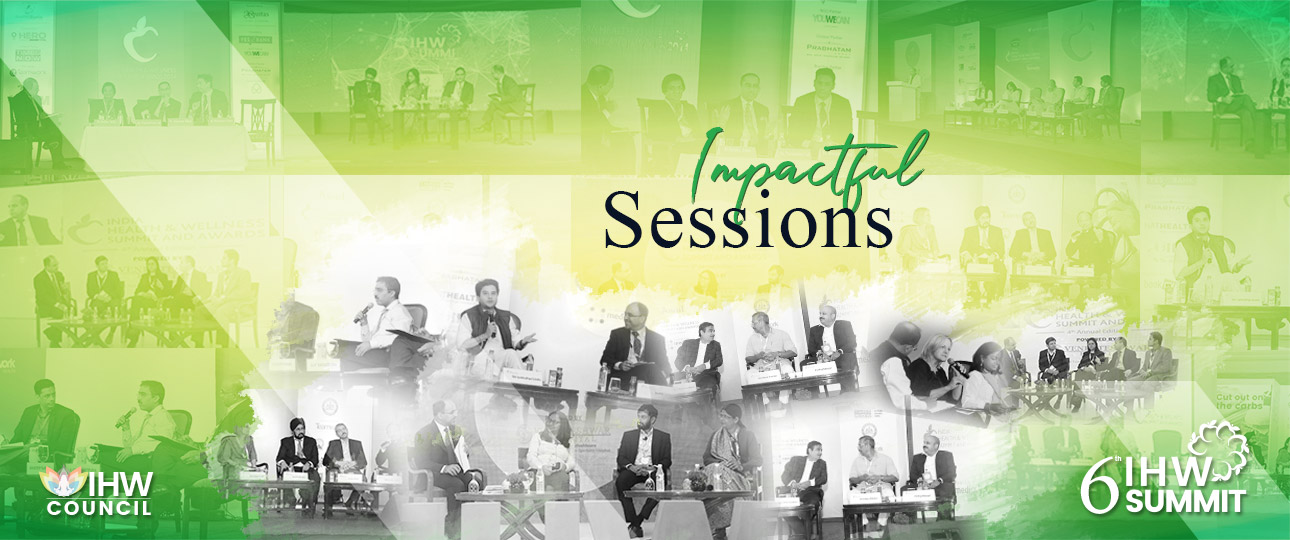 India towards the Making of Real Ayushman Bharat
More than a Healthcare Cover Scheme
The biggest and longest continuing headline grabbing health news since past one year is the Government's mega healthcare scheme, Ayushman Bharat. Although National Health Protection Mission is a major step towards covering more than half of India's population with a significant insurance cover, it is not enough when we consider the vision of Aarogya Bharat. With one-sixth of world population living in India, to ensure that our population doesn't fall sick is of paramount importance. How should India plan to chase the mission of making a real Ayushman, Aarogya Bharat? This edition of India Health and Wellness Summit would debate solutions of the many factors that will prevent the increasing disease burden, and support the success of Ayushman Bharat.
Health and Survival at Stake As We Push the Limits of Climate Change
Shifting coastlines, darker skies, eroding soil quality, drought versus flash floods – the indications are stark and clear. Climate change is real but for long we have been missing the elephant in the room. Yet political class and power centres worldwide dismiss climate change as fiction and propaganda. With world looking towards missing the deadline in achieving United Nations Sustainable Development Goals, where do we as a country stand and how it affects the health scenario on the ground?
A Nation Running Dry: Is the Reality Sinking Too Late?
Over 26 years ago, Anupam Mishra wrote the book "Aaj Bhi Khare Hain Talab"/ "The Lakes Are Still Alive", highlighting the grave water crisis of the time, forewarning the lurking challenges of future but most importantly providing conventional and traditional Indian methods of saving our water reservoirs and rivers. Today, efforts of many organizations through various programs, including the Jal Shakti Abhiyan of the present day Govt are making a start in the direction of water conservation. But how late are we and how grave is the threat?
Too Less or Too Much: Why India is Struggling to Achieve Nutritional Balance?
While the Govt initiatives such as  POSHAN Abhiyaan targets to reduce stunting, under-nutrition, etc by 2% every year till 2022, achieving the targets would still leave one-fourth of children in the age group 0-6 years as stunted or malnutritioned. On the other hand, obesity rates in children and in youth are on a rise. While the Government's Fit India movement remains a welcome step to synergize awareness, education, and activity towards diet management and fitness, the larger question remains whether the industry, civil society, schools, offices, institutions, and various other stakeholders creating the right ecosystem of nutrition and health.
 How Far Innovation and Technology Can Take Us in Securing Health?
Advanced technology, artificial intelligence, digitech, and so on is the talk of the town, especially in connecting people and improving user experience. But what realistic role will technology play in making healthcare accessible and affordable in a time-bound manner in the health space that cannot compromise on quality and has to essentially cater the poorest of the poor?
Where Facts and Fiction Merge: Fighting the Post-Truth in  Health Communication
Post-Truth is the phenomenon when objective facts are less influential in shaping public opinion than propaganda, emotions, or personal belief. With a barrage of health products and services in the offering, how much the tools of marketing and communication are blurring the lines of what is really healthy for the consumer? Where does the consumer stand in the post-truth world of Health Communication?
Debating the Role of Media on Health News
The fourth estate of democracy plays a crucial role in not only countering the malpractices in policy implementation but also to inform, spread awareness and educate people on crucial matters of life and existence. Unfortunately, health reporting is a much ignored beat in media reporting. How can media houses open its arms and space for more health stories?
Focus of the 6th IHW Summit