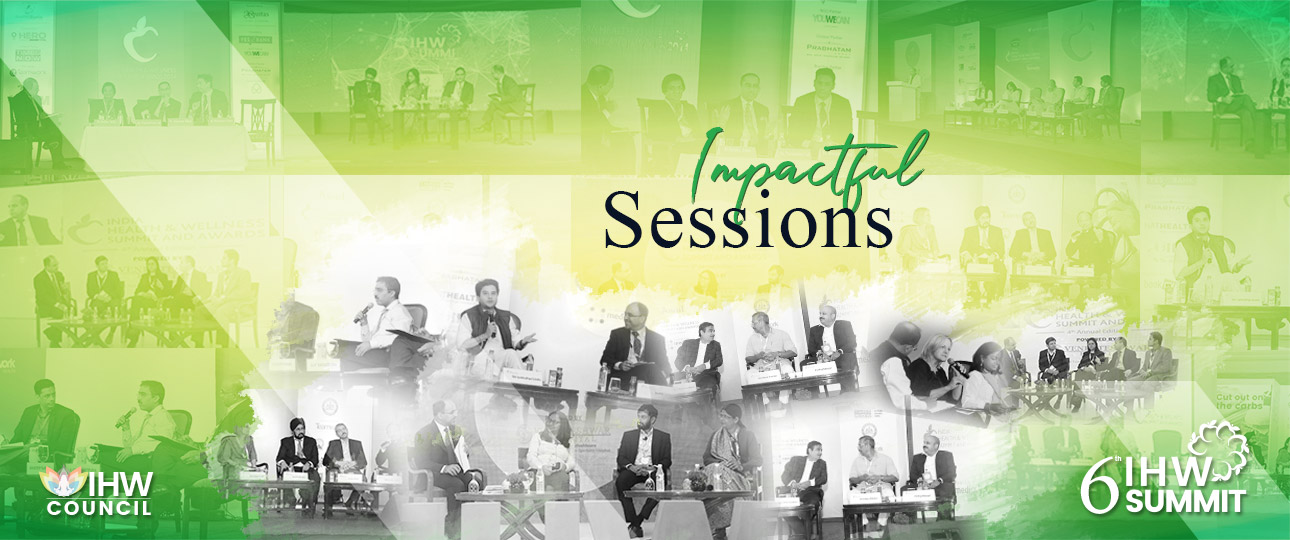 Advancing India's Integrated Health Post COVID-19
The pandemic has taught us that health is an outcome of several interconnected factors — food, water, environment, hygiene and sanitation, to mention a few. Indian Government has introduced and implemented various health and environmental programmes, policies, schemes for specific beneficiaries which include climate change, Water, Hygiene & Sanitation and Clean India missions to Poshan Yukt Bharat for women, newborn, girl child, adolescents and senior citizen to bring healthcare and wellness within the reach of every citizen and provide basic health facilities and benefits to the underprivileged. While making new policies, building hospitals and introducing advanced technologies are important for saving lives, it is time to transform the meaning of health as care for all and prioritize creation of a robust healthcare mechanism. The session will look into various ways to integrate the frontal health systems for all to have a healthy life.
Strengthening the Digital Backbone of Healthcare for High-on-Tech Health for All
Necessity is not only the mother of invention but can be crucial to further existent facilities. When the contagious COVID-19 virus required physical distancing, technology came to save potential healthcare delivery disruptions. As India aims to utilize the growing acceptance of digital healthcare to bring in better integration of health services and availability of information through the National Digital Health Mission (NDHM), the session looks into the role of healthcare innovations around Internet of Things (IoT), block chain, and artificial intelligence (AI) to improve access to quality and affordable healthcare. At the same time, technology can play a pivotal role in controlling and managing NCD's and other chronic diseases in various parts of India.
Preventive Healthcare & Wellness Towards Fit, Swasthya & Ayushman Bharat
As Indian healthcare practices increasingly adopt large-scale preventive measures to delay onsets and for better outcomes, it has become equally important to recognize the role of combining it with wellness for a quality life. Recognizing the role of health and wellness will be crucial in reducing the burden of non-communicable diseases (NCDs) in the country and the government's multi-pronged focus including private sectors and social organization involvement on fitness, sanitation, healthcare access and mental health is a testimony that the long-pending ball of healthcare integration in India has started rolling. This session will share the ideas and action plan to shift the focus of our nation's health-care system from one based on sickness and disease to one focused on prevention and wellness. And, focus on the success stories of influencers to inspire and encourage New India towards a more active lifestyle for a healthy future.
Fixing the Fundamentals: Eliminating Malnutrition to Reduce Disease Burden & Promoting Health 
It is estimated that by 2050, over 9 billion people will need to be fed and the need to find new and innovative ways to feed healthy and nutritious food to people is more pressing than ever. Nutrition security is critical to life specifically in eradicating the impact of macro & micronutrient deficiency in a large population of the country to fight the reason for the stunted growth of children, eye problems, anemia, diabetes and heart related disease. Reducing malnutrition is the key to contain the mortality of vulnerable sections — the poor, women and children — especially in the wake of the pandemic when food consumption patterns across the board are changing. The session will discuss the damaging aspects of such a change and ways to address them to ensure nutrition health and substantially reduce the burden of diseases.