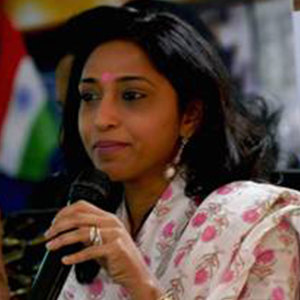 Dr Prakriti Poddar is the Managing Trustee of Poddar Foundation, Prakriti focuses on raising awareness of mental health issues and creating preventive mental health programs for the Nation.
Dr. Poddar is consistently sought out to address audiences both on private and public platforms to speak on subjects of the mind and spirit, peace and well-being. She believes in the inner power of individuals and the collective strength of communities.She is also the Director of the Poddar Wellness, a wellness company focused of mental, emotional and psychological wellness, she has Counseling and healing centers, as well as corporate tie ups for delivering counselling and therapy based services to their employees.As the Chief Strategy Officer with the National Women's Parliament, Prakriti singlehandedly handles strategic planning, direction and execution of the NWP. This platform aims to bring the collective voice of women over various agendas specifically to move them towards participatory democracy.
She has won awards for her strides in Mental Health and has been recognised as the iconic woman of the year as a result of all the upliftment work she does with EWS of society.
Since May 2017 she has been the director of the peace program, where she developed and headed the curriculum for MIT Peace University in Kothrud, Pune, bringing harmony and holistic understanding to all the students and professors of the university.Being a strategic holistic consultant she has set up start-ups, coached entrepreneurs, written articles on Corporate Wellness and Personal Wellness and continues to foster relationship with individuals and communities looking to develop holistic wellness.