Option 1
If you'd like to make an online payment through our website
Step 1 – Payment
Decide on how many awards you would like to submit entries for.
Buy the appropriate Award Entry Ticket(s) online (you will be redirected to a payment page)
A unique system-generated code will be emailed to you.
Step 2 – Entry Submission
a. Fill in the Entry form, putting in the unique code you have received, in the designated 'Award Entry Ticket number' box.
b. Once completed, click on the 'Apply for the Award' button.
c. You will receive a message indicating that the process is successful
d. In case you have paid for more than one submission, continue processes a and b.
Option 2
If you'd like to make an online payment through NEFT/ RTGS
Step 1 – Entry Submission
Fill in the form, leaving the 'Award Entry Ticket number' box empty.
In case you wish to submit more than one entry, repeat the above process
Step 2 – Payment
Transfer the appropriate amount of money, based on the number of entries you wish to submit, to our account.
Our bank details are as follows:
Payee Name: Blue Pen Media Pvt. Ltd.
Bank Account No.: 629405043216
Bank Name & Address: ICICI Bank, Nehru Place
NEFT/RTGS/IFSC No.: ICIC0006294
MICR Code: 331736
Option 3
If you'd like to make an Offline Payment for the entry
Step 1 – Entry Submission
Fill in the form, leaving the 'Award Entry Ticket number' box empty.
Step 2 – Payment
Make out a DD/Cheque in favour of: Blue Pen Media Pvt. Ltd. for the appropriate amount of money based on the number of entries you wish to submit
Send it to us at:
India Health & Wellness Summit and Awards Secretariat, Blue Pen Media Pvt. Ltd, A-8, Ground Floor, Pamposh Enclave, New Delhi-110048.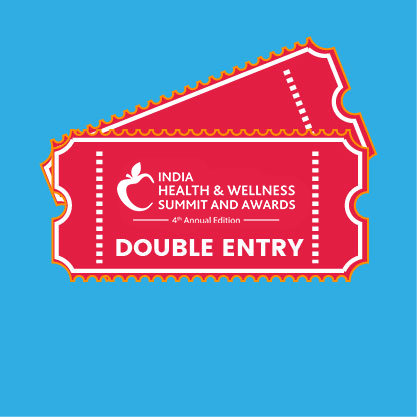 Work submitted has to be within the period 1 April 2016-31 March 2017.
All Indian companies and foreign firms with registered business operations in India can apply.
All individuals paying tax to the Government of India may apply.
All questions must be answered. Incomplete submissions will not be considered.
A participating organisation/individual can send entries in more than one award category or apply multiple times in the same category provided it is for a separate innovation/project/initiative.
A separate form should be used for each application entry.
Participants must upload relevant documents that support their application and claims.
You, as a participant, declare that the information provided in this entry form is correct and accurate to the best of your knowledge and that you agree to abide by the rules and regulations of participation.
By participating in the India Health and Wellness (IHW) Awards 2017, participants and entries agree to be bound by the Rules and Regulations and the decisions of the IHW Awards organizing committee, as final.
All decisions of the Awards Jury 2017 with respect to any aspect of the IHW Awards, including and not limited to, eligibility of entries and any discrepancies or inconsistencies, are final and binding on all entrants in all matters as they relate to these Awards.
All entries and documents submitted to participate are not returnable and the organizing committee retains the right to the information.
The awards are non-transferrable.
The entry fee for participation is non-refundable.
All IHW Awards intellectual property, including but not limited to trade-marks, trade-names, logos, designs, promotional materials, web pages, source codes, drawing, illustrations, slogans and representations are owned by the Blue Pen Media Pvt Ltd., the owner of the IHW Awards events.  Unauthorized copying or use of any copyrighted material or intellectual property without the express written consent is strictly prohibited.
Entry forms should be submitted prior to the stipulated deadline i.e.  31st October 2017 with complete information and entry fee. Changes in the deadline, if any, will be published on the official IHW Awards portal. (Extended Deadline Date:18th November 2017)
On the due participation in the IHW Awards 2017, the participants understand and agree to the following:
All the awards/ prizes honoured/ distributed by the organiser has been arrived on the sole and unbiased conclusions made by the Independent Jury through a fair process and such acts of the organiser shall not in any way amount to any discrimination to any person/parties thereon.
The participant elects to voluntarily participate in the event with full knowledge and thereby declare that all information, facts and materials provided by them for the purposes of their participation are true and best to their knowledge.
The organiser shall not be liable for any loss, theft or damage, action, claim, cost or expenses, or any injury to any party/ person which may arise as a consequence of their participation in this event.
The organiser reserves its rights to post/ publish any images/ photographs of the individuals taken at the IHW awards function and such images and pictures shall become the sole property of the organisers.
The organiser shall not be held responsible directly or indirectly for injuries and damages that may arise out of or in connection with any wrongful information, misrepresentation or corroborated facts disclosed by the Participants.
If you have any questions, or require any clarifications, please direct them to support@indiahealthsummit.com